The history behind opposition to Obama's speech to students
The federal role in schools is strictly limited. Ronald Reagan wanted to abolish the Department of Education.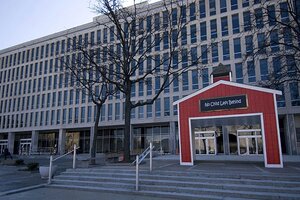 Genevieve Cocco/Sipa Press/NEWSCOM/FILE
Why the uproar over President Obama's plan to deliver a televised back-to-school speech to US students? Part of the opposition surely is due to political opposition to Obama himself. But there is another, deeper factor that also may be at work: the historic conservative antipathy in the US to a federal role in education.
Look at it this way: Many people in Texas and Florida (and other conservative states and areas) might well object to anybody from Washington addressing their kids about educational duties, president or no.
Remember, Ronald Reagan promised to abolish the Department of Education after he was elected in 1980. It was the Democratic-controlled Congress that prevented him from doing so.
President George H. W. Bush did not press this issue. As has been widely noted, he took part in a teleconference with school children in which he urged them to work hard, do their homework, and study math and science.
But in 1996, GOP presidential nominee Bob Dole promised to "cut out" the DoE and save money. The '96 Republican presidential platform said this: "The federal government has no constitutional authority to be involved in school curricula . . . That is why we will abolish the Department of Education, end federal meddling in our schools, and promote family choice at all levels of learning".
---
Follow Stories Like This
Get the Monitor stories you care about delivered to your inbox.