Town-hall meetings: facing voter wrath on healthcare
Healthcare forums evoked anger, but there was constructive dialogue, too.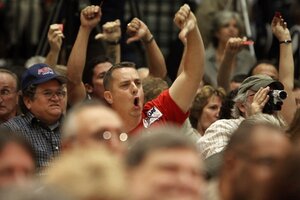 Jacquelyn Martin/AP
The shouts and clashes at August town-hall meetings were a blow to President Obama and his allies in Congress, who had hoped to return to Capitol Hill next week with a strong, fresh mandate for health care reform.
Instead, 2 in 3 Americans say they are confused about the healthcare options being discussed in Congress, according to a new poll released this week by CBS News. Only 36 percent of those polled said that government would do a better job than private insurers in providing medical coverage, down from 50 percent in June.
But supporters say it's not too late for President Obama and Democratic leaders to make a mid-course correction and rebuild momentum for "meaningful" reform.
"This has been a summer of necessary wakeup calls," says Ralph Neas, CEO of the National Coalition on Health Care, which is lobbying for reform. "While the ideological right won the month of August, this is going to toughen up the administration ... to address these anxieties, as it should."
House Democratic leaders report that the great majority of their members did town-hall meetings on healthcare over the August recess and often faced tough crowds. But they say that President Obama's speech to the nation next Wednesday is a chance to regain ground.
---