Obama's school speech: Will overkill hurt GOP?
Even before Monday's speech, conservatives had started to dial back the rhetoric. White House has suggested Republicans overplayed their hand.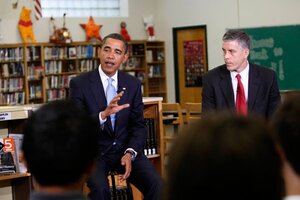 Gerald Herbert / AP
Did Republicans overplay their hand on President Obama's education speech?
That's the subtle message from White House aides, as the president moves beyond what could have been a routine back-to-school speech to students Tuesday.
Speaking to reporters on Air Force One on Monday, White House spokesman Robert Gibbs seemed prepped to comment on the kerfuffle over Mr. Obama's education speech.
"It's a sad state of affairs that many in this country politically would rather start an 'Animal House' food fight rather than inspire kids to stay in school, to work hard, to engage parents to stay involved, and to ensure that the millions of teachers that are making great sacrifices continue to be the best in the world," Mr. Gibbs said.
Word of the speech had sparked a revolt from some high-profile conservatives, who objected to what they called an attempt by Obama turn schoolchildren into "foot soldiers" for his "socialist agenda." Some school districts opted not to air the speech; in districts where the speech did air, some parents kept their children home from school.
What Gibbs does not point out is that it was the accompanying lesson plan that sparked the uproar, not the speech itself, whose exact content was not revealed until Monday. An initial draft of the lesson, written by the Department of Education, had included a suggestion that children write letters to themselves about "what they can do to help the president." The plan was changed to suggest letters about how students "can achieve their short-term and long-term educational goals."
---