Could a Republican win Kennedy's Senate seat?
Democrats dominate in Massachusetts, but a small GOP field, possibly including Andrew Card from the Bush administration, will try for the seat.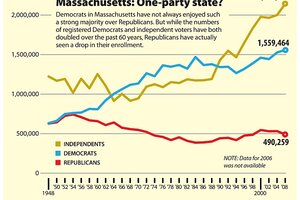 Any Republican candidate looking to fill Sen. Edward Kennedy's Senate seat isn't exactly in friendly territory. Massachusetts is perhaps the strongest one-party state in the US, with registered Democrats outnumbering Republicans 3 to 1.
But the race might get more interesting if Andrew Card, chief of staff under President George W. Bush, declares his candidacy.
Mr. Card, who also served as secretary of Transportation under George H.W. Bush, said Wednesday he is "thinking very seriously" about running, according to the Associated Press.
Until Wednesday, it looked as though the GOP would be hard pressed to even field a viable candidate. The only declared candidate is Bob Burr – a local selectman from a small town outside Boston. Former Lt. Gov. Kerry Healey – who has name recognition because of her 2006 run for governor – opted out of the race, citing family reasons. Christy Mihos, who is currently running for governor, was thought to be a possible candidate before announcing Wednesday that he will stay in the gubernatorial race.
---