Obama tries to build momentum on healthcare reform
He points to new poverty rates indicating that the number of Americans without health insurance is growing.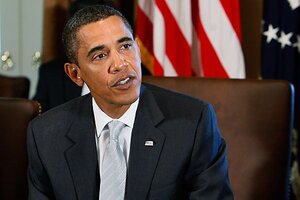 Charles Dharapak/ AP
Fresh off his big healthcare speech, President Obama is trying to build momentum on the biggest policy initiative of his first year in office.
On Thursday morning, the president addressed nurses from the American Nurses Association in a forum next to the White House billed as "remarks on health insurance reform." Mr. Obama repeated many of the points he had made the night before. But beyond substance, his relaxed, jovial manner spoke volumes about how he felt the speech had gone.
Obama mentioned how much he loves nurses – "Michelle knows about it," he smiled – and recalled their role in the deliveries of his daughters and in helping his mother and grandmother through their final illnesses.
The president also used the forum to publicize new census figures released Thursday showing that the poverty rate rose to its highest level since the early 1990s, and that the number of uninsured rose in 2008. The latter figure now stands at 46. 3 million, up from 38.4 million in 2000.
In an analysis, the health reform advocacy group Families USA stated that the new Census Bureau data "substantially understate" how many people lack health coverage today, because unemployment is much higher now (9.7 percent in August) than last year (when it ranged from 4.8 percent to 7.2 percent). Families USA estimates the number of uninsured today "is probably close to 50 million."
---
Follow Stories Like This
Get the Monitor stories you care about delivered to your inbox.