Did the Coast Guard or CNN cause the 9/11 panic on the Potomac?
Most of the criticism for erroneous reports of gunshots is aimed at the Coast Guard exercise. But news organizations take hits too for going live with unconfirmed reports reminiscent of Chicken Little.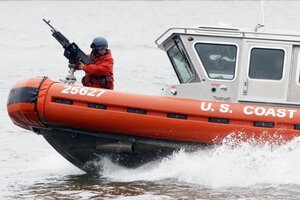 Haraz N. Ghanbari/AP
The United States Coast Guard continues to take flak for its exercise on the Potomac River in Washington Friday. Critics say it should have been more sensitive to the mental atmosphere on the anniversary of the 9/11 terrorist attacks.
"The anxiety caused by this situation on such a solemn day is extremely disturbing," said Sen. George Voinovich of Ohio, senior Republican on a homeland security subcommittee. "It sounds very much like the left hand didn't know what the right hand was doing."
Senior Coast Guard officials promise a "thorough review" of the incident in which there was a simulated attack on a "suspicious vessel" involving a radio broadcast of mock gunfire but no actual shots being fired.
White House spokesman Robert Gibbs pushed back against suggestions that this week's episode was somehow like one earlier this year when the Air Force conducted an unannounced photo op over New York City in which Air Force One appeared to be chased by fighter jets. Since many New Yorkers immediately remembered the day when hijacked airliners slammed into the World Trade Center, it seemed insensitive to say the least.
---