Democrats may go it alone on healthcare, but must close ranks
Forget Republicans. Democrats need to bring together their own centrists concerned about cost as well as liberals who still want a public option.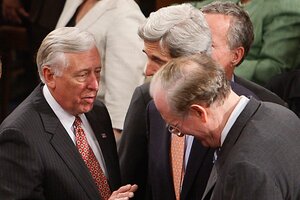 Charles Dharapak / AP
Democrats are bracing to go it alone on the overhaul of the nation's healthcare system, but the key is first closing their own ranks.
That means closing deep party rifts on issues ranging from a public option and employer mandates to new taxes and affordability for the middle class. Suddenly, securing the votes of liberals like Sen. Jay Rockefeller (D) of West Virginia is as critical as winning over centrist, swing voters like Sen. Ben Nelson (D) of Nebraska.
A key test will be next week's markup of the Senate Finance Committee's version of the bill – the last of five panels to produce draft legislation.
"We now have a view of the legislation that the Senate Finance Committee will meld with their HELP bill [Health, Education, Labor, and Pension Committee] in the Senate at some point, and we can have the debate over our differences and build a consensus over where we have agreement, which I think is probably 80 to 85 percent of the bill," said House Speaker Nancy Pelosi at a press briefing today.
Democrats hope to amplify that agreement and come out of the Finance markup next week with a robust vote. They also need Democrats to hold ranks to block an expected Senate GOP filibuster. But the failure of Sen. Max Baucus (D) of Montana, who chairs the panel, to include a public option is riling liberals, who say it's a nonstarter.
---
Follow Stories Like This
Get the Monitor stories you care about delivered to your inbox.