Massachusetts House OKs allowing a 'temp' to fill Kennedy seat
Bill approved Thursday permits the governor to appoint an interim senator until the special election. Action moves to Senate, where delay is likely.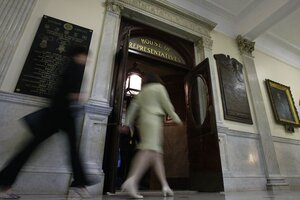 Elise Amendola/AP
Massachusetts legislators Thursday took a step toward filling the Senate seat of the late Sen. Edward Kennedy.
The state House of Representatives approved a bill that would allow Gov. Deval Patrick (D), and governors who follow him, to appoint a temporary replacement to serve in the US Senate until the state can hold a special election for a replacement to serve out the remainder of the term.
State law mandates that a special election cannot occur sooner than 145 days after a vacancy occurs or later than 160 days.
The House approved the measure, 95 to 59, late Thursday.
House Republicans were outspoken in their opposition during the debate; none of the 16 Republicans present voted to approve the bill.
"This is the height of hypocrisy," said state Rep. Lewis Evangelidis (R), noting that many of the House Democrats who supported the bill Thursday had voted against a similar measure five years ago.
In 2004, the state's Democratic-dominated legislature changed the law to require special elections to fill a Senate vacancy. Previously, the governor was allowed to fill the seat for the remainder of the term by appointment. The change was motivated by concern that then-Gov. Mitt Romney (R) would appoint a Republican replacement for Sen. John Kerry (D), if he succeeded in his presidential bid.
---