With Baucus bill, end of healthcare battle in sight
The Senate Finance Committee hopes to produce the last of Congress's five draft healthcare bills this week. Then begins the difficult process of melding them together.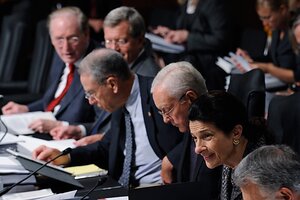 Susan Walsh/AP
Tuesday's opening of the long-awaited Senate Finance Committee debate on healthcare reform may mark the beginning of the endgame for President Obama's top domestic priority.
All the draft bills are now on the table. What comes next is the public struggle to meld those efforts together into a product that Democratic leaders hope will attract enough votes to pass.
Given the importance of the subject, the complexity of the various pieces of proposed legislation, and the sheer number of powerful lawmakers involved, it promises to be a difficult process.
"This is going to be changed, nuanced, and played around with until the very last vote," says Stephen Hess, senior fellow in governance studies at the Brookings Institution. "Students will be writing dissertations about this for decades to come."
The fluid nature of the proceedings on healthcare reform can be seen in the fact that on Tuesday Senate Finance Committee chairman Max Baucus (D) of Montana announced major changes to the draft bill, or chairman's mark, that he'd introduced just last week.
In general, Senator Baucus's moves seemed aimed at making his bill more appealing to Democrats who felt his original draft was too austere.
---