At G20, US pushes to curtail banker risk taking
The Financial Stability Board could be looking at efforts to reform executive compensation by year-end.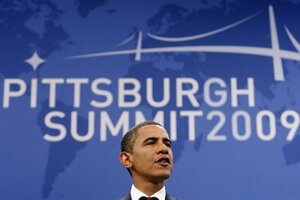 Kevin Lamarque/Reuters
To: Mr. Bank CEO
Message: Your compensation package has been rejected by the Financial Stability Board.
Yes, in the next few months, regulators of the financial industry in individual countries could have this international review board looking over their shoulders. This board would be measuring progress in ensuring that banks have higher levels of capital and that executives don't take home huge incomes as a result of risky behavior.
Reform of the financial and banking sector, says Treasury Secretary Timothy Geithner, is the Obama administration's second biggest priority at the Group of 20 summit in Pittsburgh. (The first priority at this gathering of major countries is to keep economic stimulus going.) Secretary Geithner said he hopes financial reforms, especially as they relate to executive compensation, could be in place by year-end.
"We are not going to walk away from the greatest economic crisis since the Great Depression and leave ... in place the tragic vulnerabilities that caused this crisis," he said at a press conference Thursday.
The Financial Stability Board, or FSB, was established in April, and the duties now envisioned for it represent a great expansion of its role. The board is composed of finance ministers, central bankers such as the Federal Reserve, supervisors of banks, market regulators like the Securities and Exchange Commission, and the setters of accounting standards.
---
Follow Stories Like This
Get the Monitor stories you care about delivered to your inbox.