A 'right-wing conspiracy' against Obama? Clinton says yes.
Bill Clinton said the same right-wing conspiracy that targeted him is targeting Obama. Across the political spectrum, conspiracy theories are everywhere these days.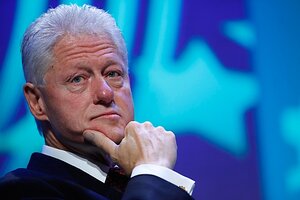 Chip East/Reuters
On Sunday, former President Bill Clinton reminded America that claims of a "vast right-wing conspiracy" did not begin with healthcare town halls and the Tea Party protests.
On "Meet the Press," host David Gregory asked Mr. Clinton if the "right-wing conspiracy" that his wife famously said was undermining his presidency in 1998 was undermining the Obama presidency. [Editor's Note: The original version misstated Mr. Gregory's name.]
Without hesitation, Clinton smiled: "You bet."
In 1998, then-first lady Hillary Rodham Clinton saw a conspiracy in the collection of political forces and shock jocks aligned to push for the impeachment of her husband for his affair with an intern.
The most ardent Democrats – perhaps the former president included – now see conspiracy in healthcare town halls where bad-tempered constituents are alleged to be the stooges of deep-pocketed organizers. Tea parties to protest huge government spending are the work of former Rep. Dick Armey and Fox News.
---