Facebook poll on killing Obama sign of antigovernment anger
The Facebook poll is just one of many examples of increasing vitriol and threats against Obama and the government.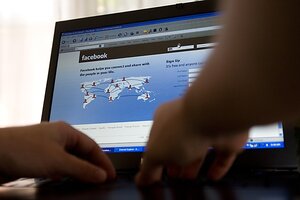 Sean Kilpatrick/The Canadian Press/AP
The news that someone had posted a poll on Facebook asking if Barack Obama should be assassinated is only the latest example of violent public rhetoric against the president.
Facebook took down the poll on Monday, as soon as officials at the popular social-networking site learned about it. The Secret Service is investigating who posted that poll, and how serious a threat that person (or people) represents to the president.
But a larger question remains: Is the nation in an up-cycle of vitriol against the president and government in general? The short answer is yes.
Not only has Mr. Obama faced a wave of threats to his safety since early in his presidential campaign and continuing into his presidency, but the federal government also now faces a resurgence of the so-called militia movement, according to organizations that track hate groups.
"It would be analogous to what we saw in the mid-'90s, where there were economic issues and dissatisfaction against the government in general," says Deborah Lauter, civil rights director of the Anti-Defamation League. "Of course, what's different today is that we have a president who's African-American. And the rhetoric is some of the worst we've ever seen."
Adding fuel to the fire is the proliferation of media, including social-networking sites, that make it easy for like-minded people to "congregate" and for conspiracy theories to abound.
"Our concern is that we're seeing [harsh language] not only from those we would deem extremist … but also that their rhetoric seems to be infecting mainstream America," says Ms. Lauter.
Violence or threats of violence against presidents and other government figures is as old as the republic. And, historians say, times of social change and economic uncertainty raise the specter of political violence.
---