Senate panel defeats public healthcare option. Is it dead?
Backers of the public option will draw hope from the vote, which was closer than expected. But tough healthcare negotiations lie ahead.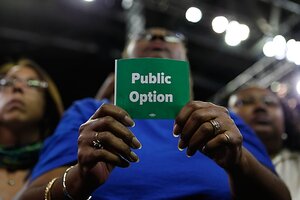 Charles Dharapak/AP/File
Two proposals for a public healthcare option went down to an expected defeat in the Senate Finance Committee Tuesday. Yet the narrower-than-expected vote could amount to something of a victory for proponents of the public option.
Sen. Charles Schumer (D) of New York's attempt to include a public option in the Finance panel's bill lost, 10 to 13. But many in Washington had expected the defeat to be much heavier after August's chastening town-hall meetings and several tepid expressions of support from President Obama.
Senator Schumer's success in mustering decent support in the Finance panel for a public option gives proponents hope. "With some work and some compromise, we can get 60 votes in the Senate," said Schumer.
Adds Ralph Neas, chief executive officer of the National Coalition on Healthcare: "What Senator Schumer did today is keep the ball in play."
The vote potentially sets the stage for an epic showdown in a month or so, when House and Senate leaders sit down to negotiate a compromise bill.
The Senate Finance Committee is the last to complete work on an overhaul of the healthcare system. After the Finance panel completes work on its version of the bill, perhaps this week, its bill will be merged with the version produced by the Senate Health, Education, Labor, and Pensions panel, which includes a public option.
---