Another Biden for Senate?
Beau Biden, son of the vice president, is back from a year in Iraq. He'd start a Senate run in Delaware with a leg up, but 2010 looks to be a tough election for Democrats.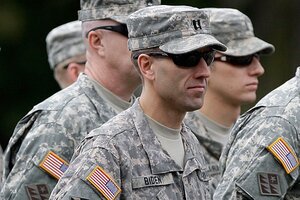 Rob Carr/AP
The return of Capt. Joseph R. "Beau" Biden III to Delaware, after nearly a year in Iraq as a national guardsman, revives talk of the future of his dad's old Senate seat – and with that, the future of the Democrats' 60-seat majority in the upper chamber.
Captain Biden, Delaware's 40-year-old elected attorney general, is widely assumed to be preparing a run next year for the seat once held by his father, Vice President Joe Biden. A placeholder currently holds the job, the senior Biden's former Senate chief of staff, Ted Kaufman.
Vice President Biden spoke Wednesday at the return ceremony of his son's national guard brigade in Dover, Del. The Biden name holds particular cache in Delaware; Joe Biden served in the Senate for 36 years, leaving only to become vice president – the first Delawarean to reach that level. And the well-known bond between father and son dating back to the death of Beau's mother, Joe's first wife, right after Joe's first election to the Senate, adds a level of poignancy.
"There's always kind of a love story there with Beau," says Sam Hoff, a professor of history and political science at Delaware State University in Dover.
---