Arizona allows guns in bars. Should any place be off-limits?
The Arizona law highlights how gun owners can carry weapons to a growing number of places, from national parks to bars. Other venues, like churches, are now a part of the debate.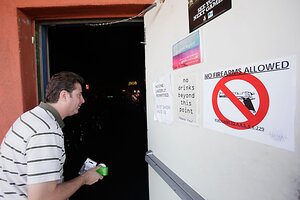 Ross D. Franklin/AP
Starting Wednesday, Arizona citizens with a concealed weapons license can bring guns into bars. It is no nod to the Grand Canyon State's Wild West beginnings. It is part of a national trend.
Arizona will be the 41st state to let bar patrons pack heat (only if they're not drinking alcohol, however). Meanwhile, the list of places where gun owners can bring their weapons is growing, as the gun lobby increases pressure on statehouses and Congress to broaden Second Amendment rights.
"The trend over the last 20 years is more freedom in most states for individuals to carry guns," says Robert Cottrol, a law professor at George Washington University in Washington.
The issue took on even greater importance Wednesday when the US Supreme Court announced it will hear arguments as to whether a Chicago handgun ban violates the Second Amendment right to bear arms. The case could have implications for all local gun restrictions, which have been a central tenet of gun control.
Arizona
---