Obama's Olympic flop: Was trip to boost Chicago's bid a mistake?
Chicago's Olympics elimination in the first round is a blow to Obama's prestige. But the president, criticized for jetting off to Copenhagen at a crucial time, has no regrets, says an adviser.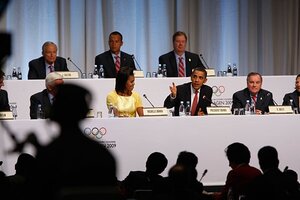 Gerald Herbert/AP
The elimination of Chicago from the competition to host the 2016 Summer Games deals a blow to President Obama's international prestige.
Particularly embarrassing was Chicago's elimination in the first round of voting. Though Olympic site selection is a notoriously opaque process, the thinking was that the choice would boil down to Rio de Janeiro (which won) and Chicago, and that an in-person pitch from Mr. Obama for his adopted hometown might tip the scales.
Obama took a fair amount of grief from political opponents for flying off to Copenhagen late this week for the International Olympic Committee's site-selection meeting. He was the first US president to make such an Olympic appeal in person.
But with so much on his plate – healthcare reform, economy in the dumps, a critical decision looming on the war in Afghanistan – the trip seemed a distraction and perhaps below an American president's station. He himself had originally opted not to go, citing his healthcare priority.
The gambit failed. And now the second-guessing begins. Was Obama's trip a mistake, and will there be lasting repercussions? Obama's top political adviser, David Axelrod, insists he made the right choice.
"I am proud of this president for going to make the case for this country," Mr. Axelrod said on MSNBC. "Anytime you're going to make the case for the United States of America, you're doing the right thing."
---