Did anti-Americanism kill Chicago's Olympic bid?
Some blame former president Bush. Rush Limbaugh says it's Obama's fault. But IOC President Rogge's dream of a South American Olympic games is a more likely reason.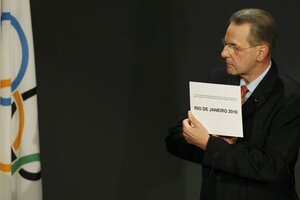 Pawel Kopczynski/Reuters
Some Americans looking for answers to the IOC's rejection of President Obama's plea for Chicago as the 2016 Olympics host city are pinpointing former President Bush as the culprit.
As backbencher Brazil partied and supposed frontrunner America sulked, some Olympic athletes and the Rev. Jesse Jackson said the former administration's unpopular actions in Iraq – leading in some global quarters to caricatures of a cowboy country run from a ranch in Texas – played into the first-round ouster of the Windy City from Olympic contention.
"I'm still in a state of shock. … Maybe there is some hangover from politics, from the last eight years," three-time Olympic gold medalist swimmer Ambrose "Rowdy" Gaines told AFP.
The idea that the President Obama, whose international poll numbers have eased some negative internationalist views of America, failed to sway the IOC's international body only proved, to some, a silent bias against the US -- especially since Chicago and Tokyo were considered front-runners.
---