New healthcare bill won't hurt deficit. What about your wallet?
The CBO says the Senate Finance bill will create a $81 billion surplus over 10 years. But critics say its fees, taxes, and mandates will hit Americans' pocketbooks hard.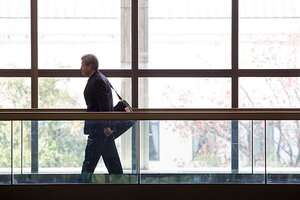 Harry Hamburg/AP
What's in a score?
The Senate Finance Committee's healthcare plan got a clean bill of fiscal health from key congressional scorekeepers – that is, it insures most Americans without adding a dime to the federal deficit, according to nonpartisan Congressional Budget Office (CBO).
But does it shift the burden of healthcare costs to players outside the Beltway? That's the new political fault line heading into a Senate Finance panel vote, which could come as early as Friday.
The CBO score doesn't measure the fiscal impact on families, businesses, healthcare providers, or state and local governments. What will happen to them if the bill's new mandates, fees, taxes, and penalties become law?
Nor does the CBO score capture the cost of doing nothing.
The importance of CBO scores
On Capitol Hill, that CBO score can be a game-changer. A poor CBO score sunk the Clinton administration's healthcare reform bid in 1994.
That's partly why House Speaker Nancy Pelosi on Thursday asked the CBO to score three versions of a government-run public option. It is part of the House's efforts to merge the work of three committees into a single bill. She is hoping that the CBO scores will rally support for the strongest version of a public option.
"There is absolutely no question the robust public option scores very well: $110 billion [in savings]. And that is why I so strongly supported it," she told reporters at a briefing Thursday. She says that she expects the robust version of the plan to outscore the other two by $85 billion over 10 years.
Eventually, the House version of reform must reconciled with a final Senate plan. There, too, the CBO score is the basis for comparing options.
---