Polls: Americans want healthcare reform at no cost to them
Polls show that Americans' views on healthcare reform are complex – and often contradictory.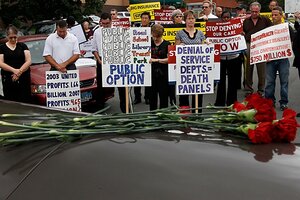 Jacquelyn Martin / AP
Democrats in Washington are navigating treacherous electoral terrain as they craft healthcare reform legislation, judging by new polls that show Americans pulled by conflicting desires on healthcare.
They are eager for change but hesitant about paying for it.
That's the tricky context as Congress takes steps toward possible passage of a sweeping reform of health insurance. On Tuesday, members of the Senate Finance Committee approved a proposal crafted by Sen. Max Baucus (D) of Montana, under which the number of uninsured is expected to drop from 15 percent of Americans to 6 percent.
Asked which healthcare problem was most serious – keeping costs down or covering the uninsured – 59 percent of Americans said providing insurance, according to a CBS News poll. Only 35 percent chose "keeping health care costs down for average Americans."
Dollars and cents a dealbreaker?
But polls have found that such statements can be deceiving. Support for grand plans can tail off when people think in personal dollars-and-cents terms.
A CBS News/New York Times poll earlier this year, for example, asked whether they would support a program that insured all Americans, if it meant higher taxes. Some 57 percent said yes. But when the poll specified an annual tax hike of $500, support dropped to 43 percent.
That is only one aspect of Americans' complex – and often contradictory – views on healthcare reform. Others, collected on the website Polling Report, include:
• A majority of Americans say fundamental reform of the healthcare system is needed. In addition, nearly one-third say the system is so badly broken it should be scrapped and completely rebuilt. Only 15 percent say minor changes will suffice, according to the CBS news poll, taken Oct. 5 through 8.
---