How Senate Democrats can get to 60 votes on healthcare
With 60 votes, Democrats can beat a Republican filibuster – and they're increasingly confident of getting there by wooing party moderates.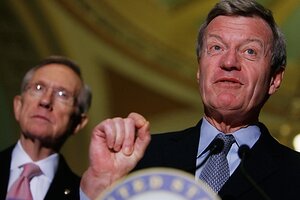 Charles Dharapak / AP
Senate Democrats headed into closed-door meetings Wednesday with growing confidence that they will be able to produce a healthcare bill that can win a critical 60 votes.
Democrats might need all 58 Democrats in the Senate, as well as the two independents who sit with the majority
caucus, in order to get the 60 votes needed to defeat a Republican filibuster.
So they welcomed the return of Sen. Robert Byrd (D) of West Virginia Wednesday, who had been absent for health reasons in recent months. The addition of the first Republican vote for reform – from Sen. Olympia Snowe of Maine Tuesday – also helped.
But the key shift has been an apparent willingness among Democratic moderates to back a reform bill even if means confronting angry voters at home. They are toning down opposition to elements of healthcare reform that only a week ago appeared set in stone.
"I can identify many things that cause me concern, and I hope they can be resolved," said Sen. Ben Nelson (D) of Nebraska, citing concerns that a public option could undermine the coverage for 200 million Americans who have private insurance.
But he says it's not necessarily a showstopper: "I'm maybe on the same page as the president when he said it shouldn't be the mechanism as much as the result."
---