Five things New Orleans wants from Obama
When President Obama speaks to New Orleans residents Thursday, they will likely tell him they need federal help to make the city more hurricane-proof and to fix a moonscape of post-Katrina potholes.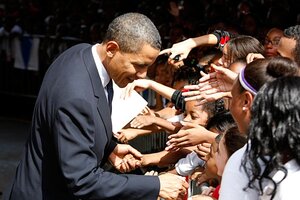 Kevin Lamarque/REUTERS
Touching down in New Orleans for the first time as president Thursday, Barack Obama arrived in a city that still needs him.
In a tour and a town hall, Mr. Obama will doubtless see the returning signs of normalcy that mark New Orleans halfway through its promised 10-year recovery from the destruction of hurricane Katrina. But the city's future is still tightly wound to the nation's largess.
In many ways, it a mutual dependence: New Orleans isn't just a boost for American cuisine and tourism, it's a key port, a primary center for oil and gas refinement and distribution, and a builder of American warships. The Louisiana Gulf Coast is integral to the nation's well-being, and federal money is integral to the New Orleans' economic prosperity.
Katrina has only tightened these bonds.
Obama made the mishandling of Katrina by Republicans a talking point in his successful campaign last year, and even Republican Gov. Bobby Jindal – usually a thorn to Obama – has given credit to the administration for some appointments and policies that have cut red tape.
But to thrive, New Orleans still needs help with five key aspects of the recovery, says John Biguenet, a heralded New Orleans writer whose trilogy of plays about Katrina's aftermath – "Rising Water," "Shotgun," and "Mold" – are now touring the US.
---