Healthcare reform adds to troubles of Senators Reid and Dodd
Sens. Harry Reid and Christopher Dodd are leading the charge for a healthcare reform bill. But that makes it hard for them to run as moderates in 2010, when both will face tough reelection campaigns.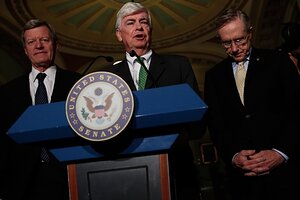 Charles Dharapak/AP
Two of the three Democrats charged with producing a Senate healthcare bill to take to the floor – Senate majority leader Harry Reid of Nevada and Sen. Christopher Dodd of Connecticut – face tough reelection bids in 2010.
Senate leaders are used to being lightening rods. But the overhaul of the US healthcare system sets up a perfect storm of competing interests, especially for Democrats.
As leader of a 60-member majority, Senator Reid has the votes to move major legislation. But his caucus is divided on issues ranging from costs of the plan to the scope of a public option.
This week, progressive activists rallied outside Senator Reid's office building to call for the expulsion of moderates who vote against the bill. Liberal bloggers ramped up calls for Reid's dismissal if he fails to include a robust public option. Labor unions called on Democrats to reject a proposed tax on generous health plans – something moderate Democrats deem essential.
At the same time, Reid has to keep an eye on politics at home, where constituents face one of the highest unemployment and foreclosure rates in the nation.
Last month, Reid improved the health bill for Nevada by winning assurances that Nevada would be one of only four states to be fully funded by the federal government for the first five years of expansion of Medicaid – a key element in plans to expand health coverage.
Reid pledged to Nevadans that state budgets would not be hard hit by this new requirement.
---