Economy may be rebounding, but state budgets are still hurting
All but one state (Vermont) saw tax collections and other funds fall for the second quarter in a row. Over the past year, they've lost more than they got in federal stimulus money.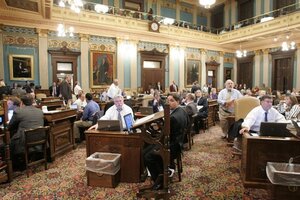 Al Goldis/AP
This week's welcome news that the Dow topped 10,000 for the first time in a year – alongside comments by many economists that the recession is over – does not spell quick relief in one key corner of the US economy: state budgets.
That's the assessment of a new study, released Thursday by the Nelson A. Rockefeller Institute of Government, which shows that state revenues plummeted for the second quarter in a row – this time a record 16.6 percent.
Total state tax collections declined by $63 billion, or 8.2 percent, from the previous year, roughly twice the amount states gained in fiscal relief from the federal stimulus package. Forty-nine states saw total tax revenues fall during the quarter, with 36 states reporting double-digit declines.
Regionally, Alaska fared the worst with a drop-off of 86.5 percent, due to recent drops in oil prices. And Vermont fared the best with a 2.2 percent growth in tax revenues primarily due to a one-time estate-tax settlement.
"It's really rough out there for states," says Scott Pattison, executive director of the National Association of State Budget Officers. Part of the problem, he says, is the declines have come on top of declines in past years. [Editor's note: The original version misstated Mr. Pattison's first name.]
"Many of these states had to cut to the bone last year and then turn around and do it again," he says. "That's hard to do."
---
Follow Stories Like This
Get the Monitor stories you care about delivered to your inbox.