Bloomberg tries to 'run up the score' in New York mayor race
Polls suggest Michael Bloomberg has a 10 percentage point lead in the campaign for New York mayor. So why is he ramping up a blitz of attack ads?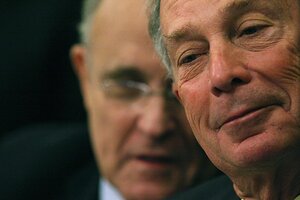 Tina Fineberg/AP
With only two weeks until the election, New York Mayor Michael Bloomberg is behaving as if he doesn't have a secure lead over his opponent, Bill Thompson, the Democratic city comptroller – though polls show him leading by 10 percentage points.
He is attacking Mr. Thompson on television ads, he's sending out mass mailings that describe Thompson's record in a very negative light, and his supporters – such as former Mayor Rudolph Giuliani – are warning New Yorkers crime could surge again unless Mayor Bloomberg is reelected.
"The bottom line is the Bloomberg campaign is trying to run up the score," says political commentator Doug Muzzio, a professor at Baruch College in New York. "They don't want to just beat him, but they want to beat him by a huge margin."
Other analysts, however, see another strategy at work. A Sept. 21 poll by the Marist Institute for Public Opinion found Bloomberg leading Thompson by 50 percent to 39 percent. Ten percent of the voters were undecided.
"The undecideds typically go for the challenger," says Lee Miringoff of the institute. "In that kind of scenario, it's a lot closer race."
Mr. Maringoff says the Bloomberg campaign is trying to erect obstacles to prevent the undecided voters from siding with Thompson. For example, he has portrayed Thompson as gambling with New Yorkers' pension money and accepting campaign contributions from people who manage the pensions.
"The campaign is playing by the laws of the street," says Mr. Muzzio. "Once someone is down, you beat them until they can't get back up."
Bloomberg might need to remain on the offensive because of anger at him running for a third term. Twice, New Yorkers voted to limit ity politicians to two terms. But Bloomberg persuaded the city council to override the vote, freeing him to run for one more term.
---