Can Obama rescue Corzine in New Jersey governor's race?
Gov. Jon Corzine ropes in Obama to help him win a close race in New Jersey. Obama will campaign for Corzine Wednesday night.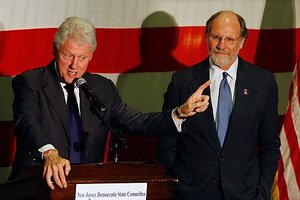 Mel Evans/AP
When President Obama travels to New Jersey Wednesday night, he might think he's running for office in the Garden State because Gov. Jon Corzine (D), in an effort to win votes, has erected billboards extolling "Obama Corzine."
But Mr. Obama's billboards and visits are integral to Corzine's strategy against Republican challenger and former US attorney Chris Christie.
"Corzine is trying to push the ties to himself and the president with Democratic voters," says Patrick Murray, director of polling at the Monmouth University Polling Institute in New Jersey. "This is to get those Democratic voters disenchanted with Corzine and upset with high property taxes to forget about that and vote one for the team, headed by Barack Obama."
Obama is not the only Democratic dignitary to hit the state for Corzine's campaign. Vice President Joe Biden and former President Bill Clinton have come visiting, too.
Polls show the strategy is having an impact, says Mr. Murray. In August, a Monmouth/Gannett poll found 17 percent of Democratic voters planned to vote for the Republican Mr. Christie. In the latest poll released Tuesday, that was down to 8 percent.
---