Obama's Fox News offensive: Has it worked?
Anita Dunn and others have called Fox News a wing of the Republican Party and boycotted the network. Critics say Fox News is changing its ways.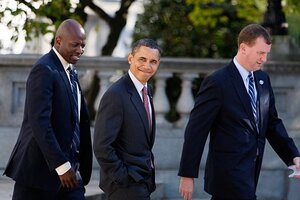 Charles Dharapak/AP
Has the Obama administration's broadside against Fox News – claiming that it is not a news organization – chastened the network in the slightest?
The behavior of Fox News personalities would suggest not. Glenn Beck has likened the administration's attacks to Richard Nixon's infamous "enemies list."
Yet critics of Fox News claim at least one victory. After teasing coverage of Oct. 17 Tea Party protests, Fox didn't cover the events on TV, instead relegating coverage to its website. For a network that had expansive coverage of the Tea Party Express leading up to the 9/12 protests in Washington and had commentator Sean Hannity headline a Tea Party in Atlanta this summer, that "says something," says Jess Levin, a spokeswoman for Media Matters for America, a liberal media watchdog group.
For many media experts, however, the question is: If Fox did blink, is that a good thing?
"Reacting to criticism is a very dangerous thing for any kind of publication to get involved in, especially when the criticism is ideological," says Tom Edsall, author of "Building Red America" and political editor at The Huffington Post. "I do think that Fox has often been tilted to the right, but if they're now inhibiting their coverage – if these Tea Parties [that they didn't cover] were newsworthy – that's not good."
---
Follow Stories Like This
Get the Monitor stories you care about delivered to your inbox.