Who is Anita Dunn?
Anita Dunn escalated the Obama administration's feud with Fox News. But aside from her peculiar statement about Mao Zedong, not much is known about her outside the Beltway.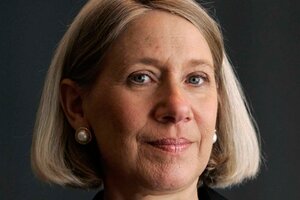 Susan Walsh/AP/File
White House Communications Director Anita Dunn set the political world on fire with her comment on CNN's "Reliable Sources" Oct. 11 that Fox News was "a wing of the Republican Party," adding "let's not pretend they're a news organization like CNN is."
Fox commentator Glenn Beck mounted a counterattack, going after Ms. Dunn for a statement she made in a speech to a private school in suburban Maryland, quoting Mao Zedong and calling him one of her "favorite political philosophers."
Mr. Beck's response: "It's insanity. This is her hero's work. She thinks of this man's work all the time? It would be like me saying to you, 'You know who my favorite political philosopher is? Adolf Hitler."
Dunn countered that her line about Mao "was intended as irony," and that she got the Mao quote from the late Republican strategist Lee Atwater. A certain Fox commentator's "sense of irony may be missing," she quipped.
So who is Anita Dunn?
---