New video stokes ACORN controversy
Conservative activists released a new video sting of ACORN employees this week - this time from the Philadelphia office, which the group had held up as a model of good practice.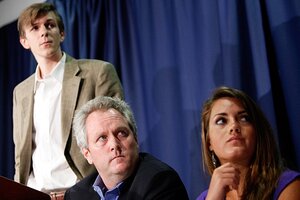 Haraz N. Ghanbari/AP
The controversy over ACORN shows no signs of abating as another video – this time from Philadelphia – was released this week as the latest piece of evidence in a bid to discredit the community-organizing group that conservatives charge uses tax dollars to advance a liberal agenda.
As in the five other videos, two young activists pose as a pimp and prostitute and solicit home-buying advice from an employee of the Association of Community Organizations for Reform Now (ACORN), the country's largest grass-roots organizers.
Unlike the other videos, which were all shot over the summer and released in September on BigGovernment.com, this video does not explicitly reveal ACORN employees giving the videographers – James O'Keefe and Hannah Giles – tips on how to hide their phony prostitution ring from tax regulators and loan officers. But it could still be damaging.
After the controversy broke, ACORN said it fired the employees who were caught on tape dispensing bad advice and took steps to ensure all employees had proper training. The group held up the Philadelphia office (taped around the same time as the others, but not released until now) as an example of how the videos represented the exception at ACORN and not the rule.
In that office, the group said, the two videographers had been asked to leave and Ms. Giles never identified herself as a prostitute.
---