Attacks by Dick and Liz Cheney could be a good thing for Obama
Critics say Dick Cheney and George Bush themselves 'dithered' on Afghanistan for years. And Cheney left office so unpopular that his reemergence on the political scene reminds most Americans why they voted for Obama in the first place.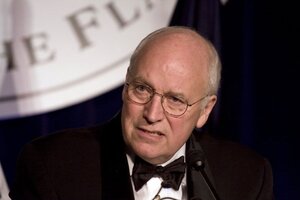 Harry Hamburg/AP
If President Obama were to look down at his ankles right now, he'd see two Cheneys gnawing away. Former vice president Dick Cheney and Mr. Cheney's daughter Elizabeth.
This father-daughter duo of Bush administration veterans has been highly critical of the Obama administration and of Barack Obama personally.
On missile defense systems in eastern Europe, Iran's capability of having nuclear weapons, and the wars in Iraq and Afghanistan, Obama has either "dithered" or taken wrong turns, according to the senior Cheney's hard-hitting speech to the Center for Security Policy Thursday.
Specifically, Cheney said, "President Obama now seems afraid to make a decision…" on how to proceed in Afghanistan which seemed to sound a lot like he was questioning Obama's courage as commander in chief.
Meanwhile, Ms. Cheney (who held posts in the Bush State Department) recently started a new advocacy group in Washington called "Keep America Safe" designed "to provide information for concerned Americans about critical national security issues."
The group comes out of the box punching.
"President Obama is presiding over a slow-motion civil-military crash occasioned by his meandering Afghanistan strategy review," it says (quoting from a Foreign Policy blog post by Peter Feaver).
---