NFL's Europe expansion? Maybe in 10 years. Maybe never.
In most countries, 'football' means kicking that round thing around. But it would be fun for the 'Patriots' to show Brits what a former colony can do.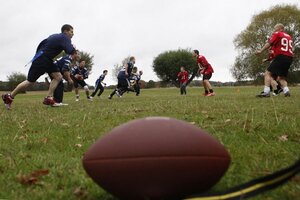 Sang Tan/AP
Eighty thousand Brits cheering on the New England Patriots carries enough historical irony to warrant a look-see of the Pats-Bucs matchup at Wembley Stadium in London on Sunday.
Is it another fun NFL public relations ploy -- or a glimpse of the league's transnational future?
Pats owner Robert Kraft, a self-described Anglophile, sees the potential for an NFL team in London or perhaps Berlin in the next 10 years (though getting a team to Los Angeles might be a more immediate priority.)
NFL Commissioner Roger Goodell, who first moved a game to London in 2007 and is planning more, says there's "tremendous interest" in putting a team in London, though he wouldn't give a time line.
Even former secretary of state Condoleeza Rice has said football one day will be a "game of international proportions."
Of course, a quick run down of the English papers today shows very little about the football game, save a Page 6-style feature about the Tampa Bay Buccaneers cheerleaders. (Top London Times sports headline on Saturday: "Dalglish rallies Kop behind Benitez." Oh, okay.)
---