Obama signs bill expanding hate crimes to sexual orientation
Gay-rights groups welcomed the move, which expands hate-crime law to include crimes based on gender and sexual orientation. But some legal scholars suggest it's an overreach of federal power.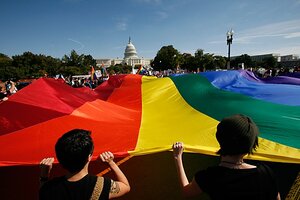 Molly Riley/Reuters
The gay community applauded President Obama's signing Wednesday of a hate-crime law that covers crimes against people based on their gender identity and sexual orientation, real or perceived.
The law, known as the Matthew Shepard and James Byrd Jr. Hate Crimes Prevention Act, gives the Justice Department the ability to investigate and prosecute such crimes. It expands on a 1969 federal hate-crimes law that covered crimes motivated by race, color, religion, national origin, and disability.
"Certainly, this is a really important first step," says Kevin Cathcart, executive director of Lambda Legal gay rights organization. "It is something that we have needed and wanted for many years. It's a day that deserves celebration."
But he and other gay-rights activists say that much remains on the agenda for federal action:
•Passage of the Employment Non-Discrimination Act (ENDA). This legislation would bar employment discrimination based on sexual orientation and gender identity. Some states have such a law on the books, but many do not.
•Repeal of the Defense of Marriage Act (DOMA): This 1996 law defines marriage as between one man and one woman, and allows states not to recognize a same-sex marriage performed elsewhere.
---