Edmunds.com fires back at White House cash-for-clunkers slam
Tiff over the success of cash-for-clunkers has the White House reaching beyond media criticism to take on even 'apolitical' consumer groups.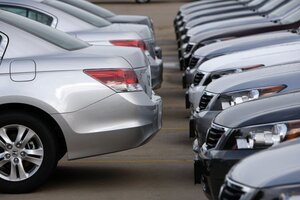 David Zalubowski/AP
Edmunds.com CEO Jeremy Anwyl is defending his company's claim that the Cash for Clunkers program was basically a lemon, saying a recent report simply reiterated what's well known in the car industry: Incentive programs are "eyewateringly expensive."
After taking on Fox News and the US Chamber of Commerce as part of a new media strategy aimed at perceived political opponents, the White House turned its blog on Edmunds' critical report of the $3 billion Cash for Clunkers program.
In a post titled "Busy covering car sales on Mars, Edmunds.com gets it wrong (again) on Cash for Clunkers," the White House charged the firm with "trying to grab headlines and get on cable TV" while the analysis doesn't withstand "basic scrutiny."
Founded in 1966, Edmunds.com is the Santa Monica, Calif.-based publisher of the Blue Book series. Basically a consumer company supplying industry analysis to subscribers, Edmunds.com also offers the "True Market Value" tool.
So what did Edmunds do to warrant a snarl from the White House? For one thing, its report did grab headlines, including a well-read Monitor report.
---