At White House, music to Michelle Obama's ears
First lady Michelle Obama hosted 120 student musicians, who took master classes from classical artists, filling the White House Wednesday with the strains of cellos and pianos.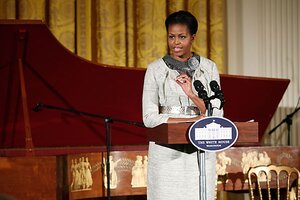 Charles Dharapak/AP
The White House had the feel of a music conservatory Wednesday afternoon, as 120 high school and middle school students from around the country – classical musicians all – attended master classes with some of the top names in the business.
Yours truly, serving as the print pooler for first lady Michelle Obama, got to dip into each class: First, Grammy-award winning violinist (and heart-throb) Joshua Bell, in jeans and shirt-tails, met with some 30 teenage violinists in the Map Room.
"Hey, everybody. Whaddaya think, being at the White House?"
"Woo-hoo!" the students replied.
Bell lamented that he now seems to be most famous for a Washington Post experiment he took part in almost three years ago, in which he played the violin on the street – to see if anyone would notice that he was a world-class violinist. (A few people did.)
"I guess any publicity is good publicity," he said. "I made $38 in about 40 minutes. The good news is that I didn't have to give my manager 20 percent."
Next, to the Diplomatic Room, for 27-year-old cellist Alisa Weilerstein – called by New York magazine, "arguably, Yo-Yo Ma's heiress apparent" – and a roomful of cellists. The group played the prelude to one of the Bachianas Brasileiras, by Heitor Villa-Lobos.
---