Election results hearten Republicans, deal blow to Obama
The 2009 election results in two governor's races are a warning to moderate Democrats worried about 2010 reelection. If they go down, Obama's agenda is imperiled.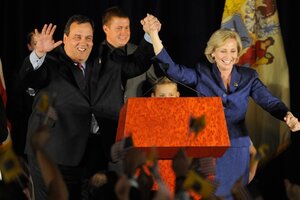 Henny Ray Abrams/AP
Republicans won two big races Tuesday – the governor's races in Virginia and New Jersey – in a rebuke to the Democratic Party and a blow to President Obama.
Though most voters in both states said in exit polls the election was not a referendum on the Democratic president, the result sends a warning to moderate Democrats nationwide concerned about their reelection chances next year. That could deal a blow to Mr. Obama's ambitious agenda, foremost healthcare reform and energy legislation, amid continuing high unemployment.
In one bright spot for Democrats, the party's candidate won the special election for the House seat in New York's 23rd district – a takeover of a historically Republican seat. It was a wild contest, marked by dissension within the national GOP, as conservatives effectively drove the Republican nominee out of the race for not being conservative enough.
In the long run, Democrats might actually have preferred that the Conservative candidate win, as it would have emboldened conservatives nationally to take on moderate Republicans in districts and states where the moderate may be a better fit. But for the short term, the victory of Democrat Bill Owens in NY-23 provided the one bright spot in a gloomy night for the party.
---