AARP, AMA give House healthcare bill an 11th-hour boost
The AARP and AMA endorsed the House healthcare bill Thursday. But there are caveats, and some Democrats remain concerned about cost and abortion provisions.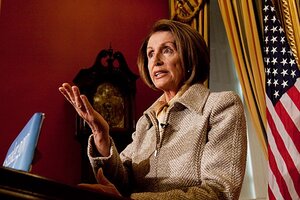 Harry Hamburg/AP
Just 48 hours before a historic healthcare vote, Senate Democrats racked up big endorsements – and needed momentum – from the doctors and the nation's leading seniors' lobby.
The American Medical Association (AMA) and Association for the Advancement of Retired People (AARP) announced their support for the bill Wednesday.
"We are closer to passing this reform than ever before," said President Obama, after the announcements. "And now that the doctors and medical professionals of America are standing with us; now that the organizations charged with looking out for the interests of seniors are standing with us, we are even closer."
The AARP board of directors committed the clout of its nearly 40 million-member lobby to the 11th hour fight, including an ad campaign and mobilization of some 5 million activists.
"Beginning today, we will energize all of our resources for passage of the House plan," said AARP board chair Bonnie Cramer at a mid-day Washington press briefing.
But support of the American Medical Association, announced minutes later, came with a price: that the House also commit to passing a 10-year "fix" to roll back mandated cuts in payments to physicians who serve Medicare patients.
---