Is the House healthcare reform bill unconstitutional?
Lawyers linked to the Tea Party movement say healthcare reform is unconstitutional and vow to challenge any bill in federal court. The issue: Has Congress overstepped its constitutional authority?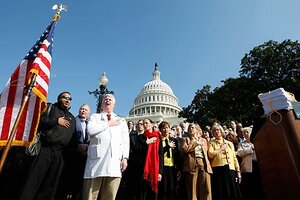 Kevin Lamarque/Reuters
Healthcare reform critics gathered at the Capitol Thursday for a very public "House Call" protest ahead of Saturday's scheduled vote on the House bill.
Behind the scenes, however, lawyers connected with the Tea Party movement are planning a legal assault on healthcare reform.
If Democrats manage to push a comprehensive healthcare reform package onto President Obama's desk, a group of lawyers file suit in federal district court, says Strother Smith, president of the newly founded 10th Amendment Foundation, a Tea Party-affiliated organization in Abingdon, Va.
To many constitutional experts, the effort would be futile. Congress's bid to mandate healthcare for all Americans fits neatly into 70 years of Supreme Court precedent. The nation's highest court has steadily broadened Congress' power to tax, influence, and regulate the lives of all Americans.
But Tea Party activists see healthcare reform as something of a Waterloo. A successful legal challenge against the bill could stop – and perhaps even reverse – the expansion of congressional power, they say. A loss, they say, would cement the fact that Washington's national power has evolved in a way that the Founders would not recognize.
"The Constitution sets us up as a representative constitutional republic, and the Democrats, if they get by with doing this, they're in effect doing away with us as a constitutional republic and establishing us as a pure democracy, meaning rule by man, not rule of law," says Mr. Smith.
---