War comes fiercely home: Blow by blow of Fort Hood rampage
The Fort Hood rampage, intense and horrific, was over in minutes - stopped by a heroic police officer. Soldiers who rushed to help the injured are still trying to comprehend what happened, and why.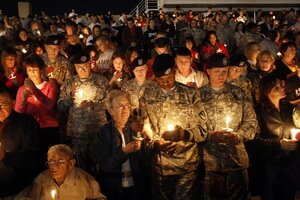 Tom Fox/AP
Army Maj. Nidal Malik Hasan gave away bags of frozen broccoli and even a few copies of the Koran as he emptied out his apartment in preparation for deployment, telling one neighbor, "Nice knowing you, old friend. I'm going to miss you."
The veteran Army psychiatrist, who specialized in helping soldiers deal with war trauma, had grown disillusioned with the war, seeing its impact on soldiers and how it conflicted with his faith -- points he had allegedly made in public and on the Internet.
When newly-elected President Obama failed to pull troops out of Iraq and Afghanistan, Mr. Hasan's spirits fell further. His outspoken negative views on the war, coupled with his wearing Muslim dress off-base, had caused fellow soldiers to target him with verbal abuse, family members recalled, only deepening Hasan's anger. An attempt to get discharged from the Army failed.
But to go from anguish, disillusionment, and anger over his scheduled deployment to Afghanistan to turning a .357 Magnum and a PN 5.7 pistol on fellow soldiers is still a mystery to stunned and grieving Fort Hood soldiers and the greater US military family.
Motive still a mystery
---