Five flash points as healthcare reform moves to the Senate
In the Senate, passage of healthcare reform legislation will be even harder than in the House. Here are five issues that could delay or, perhaps, torpedo healthcare reform.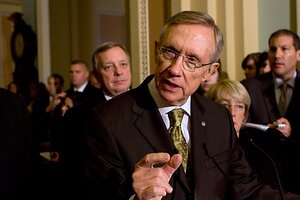 Harry Hamburg/AP
Passing comprehensive healthcare reform in the House on Saturday took a lot of sweat – and a few tears. But passage in the Senate will be even tougher, raising questions about the effort's ultimate viability.
In fundamental ways, the two houses agree on key aspects of reform. Both would require that most people must carry health insurance or pay a penalty. Both would provide "affordability credits" to lower-income people who otherwise could not afford insurance. Both would expand Medicaid, the government-run health program for low-income people, by reducing the thresholds for eligibility.
Still, much remains to be resolved between the competing House and Senate versions. In fact, the final Senate version has yet to be revealed in full detail; all that's known are the outlines as unveiled by Senate majority leader Harry Reid (D) of Nevada.
Here are five flash points to watch:
1. Public option. The House version includes creation of a government-run insurance plan, to promote competition with private insurers, with reimbursement rates for doctors and hospitals to be negotiated. The Senate version, per Senator Reid, would also include a public option, but would allow individual states to opt out.
Sen. Joe Lieberman of Connecticut, an independent who caucuses with the Democrats, has said unequivocally that he will vote against any plan with a public option. Sen. Ben Nelson (D) of Nebraska has linked his vote to that of Sen. Olympia Snowe of Maine – the only Republican in the Senate Finance Committee to vote for health reform. Senator Snowe opposes the public option, even with an opt-out provision, and thus Senator Nelson is also not seen as on board.
---