Holder in the dock as critics focus on New York 9/11 terror trial
Attorney General Eric Holder's decision was bound to raise sharp responses. Those who lost loved ones in the 9/11 attacks are weighing in along with politicians and pundits.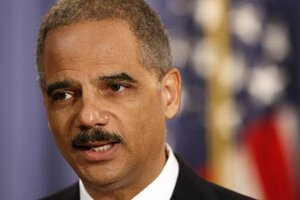 Kevin Lamarque/Reuters
No one knows for sure when (or even if) Khalid Sheikh Mohammed and four other accused 9/11 terrorists will enter a New York courtroom to face a judge and jury. For one thing, defense attorneys may want to shift the venue away from the place just blocks from where the World Trade Center's twin towers fell in a murderous pile.
But for US Attorney General Eric Holder -- front man in the Obama administration's decision to bring alleged 9/11 "mastermind" Mohammed and the others from Guantánamo Bay, Cuba, to Manhattan -- the trial has already begun, and he's the one in the dock.
No one would disagree with Mr. Holder's characterization of the September 2001 attacks by hijacked aircraft as "literally the crime of the century."
But it took only about three nanoseconds for politicians and other partisans to begin weighing in on the subject, generally along these lines as expressed in the two national newspapers published in New York City:
The Wall Street Journal. "Eric Holder's decision to move a trial on war crimes to American soil is morally confused, dangerous and political to a fault."
---