Giuliani: New York trials show Obama is soft on terrorism
Rudy Giuliani said Khalid Sheikh Mohammed does not deserve the legal rights that a New York trial in a civilian court offers. Obama 'is getting away from the fact that we're at war,' he said.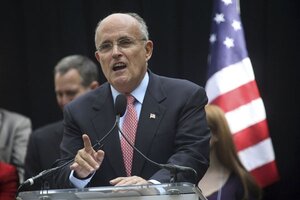 Patrick Andrade/Reuters/File
Former New York Mayor Rudy Giuliani took his tough-on-crime platform a step further Sunday, asserting that the Obama administration has become soft on terrorism.
On several Sunday talk shows, he said Attorney General Eric Holder's decision to try the alleged mastermind of the 9/11 attacks, Khalid Sheikh Mohammed, in a civilian court in New York was essentially a concession to a terrorist.
"In this particular case, we're reaching out to give terrorists a benefit that's unnecessary," he said on ABC's "This Week." "In fact, Khalid Sheikh Mohammed, when he was first arrested, asked to be brought to New York. I didn't think we were in the business of granting the requests of terrorists."
Attacking Democrats for not being hawkish enough on security matters has long been a chestnut of Republican campaign rhetoric. But President Obama's painstaking approach to policy has opened him to criticism in recent weeks from people who want a harder line against terrorists from Afghanistan to New York to Cuba.
How several issues now before the Obama administration turn out during the next year will likely determine whether security is a soft spot that Republicans feel they can attack in 2010 elections.
---