Sarah Palin 'Going Rogue' to the White House? Polls say no.
With her book, 'Going Rogue,' released today, Sarah Palin is red meat to the far right. But Palin's poll numbers have slid significantly since she quit as Alaska governor.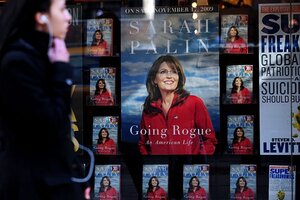 Emmanuel Dunand/AFP/Newscom
Here's one big reason why Sarah Palin may not run for president in 2012: Her poll numbers are awful.
It's possible for determined politicians to reverse poor ratings of public opinion. Hillary Clinton has done it, to a certain degree. And some experts say Ms. Palin's current situation is similar to that faced by Secretary of State Clinton in the past.
But, still … 66 percent of respondents to a CBS News survey released Monday said they did not want Sarah Palin to run for the White House in 2012.
Seventy percent of respondents to a CNN/Opinion Research poll said Palin is not qualified to be president.
And for Palin, the trend is going the wrong way. As Pollster.com's compilation shows, her numbers have slid significantly this year, particularly following her resignation from Alaska's governorship in July.
---