Senate Democrats introduce $849 billion healthcare reform bill
Majority leader Harry Reid unveiled the Senate's healthcare reform bill Wednesday. Now Reid must cobble together 60 senators to avoid a Republican filibuster.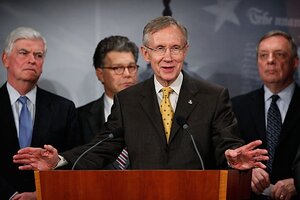 Manuel Balce Ceneta/AP
Though the congressional debate and legislative sausage-making are far from over, the Senate took a major step Wednesday in putting forth a $849 billion healthcare reform bill.
The bill, launched by Senate majority leader Harry Reid – and vigorously opposed by Republicans – aims to provide health insurance for 94 percent of all Americans, including 31 million people now uninsured.
The measure reportedly would require most Americans to carry health insurance, require large companies to provide coverage for their employees, and prohibit insurance companies from denying coverage because of preexisting medical conditions.
A senior Democratic leadership aide told the Associated Press that Congressional Budget Office analysis showed the bill would reduce federal deficits by a total of $127 billion over 10 years.
The bill is expected to be paid for by cuts in projected Medicare payments as well as higher payroll tax on families earning more than $250,000 a year.
Senator Reid had previously announced that the bill could include an option for individuals to buy government-sold insurance – a form of "public option" – with states permitted to drop out of the system. That has been a sticking point in House and Senate deliberations, especially for Republicans and some conservative Democrats.
---