Violence at Tea Party rally: bare-knuckle politics in the streets
A Tea Party protest against immigration reform in Fort Lauderdale, Fla., Saturday descended into fisticuffs, showing the tensions between America's political extremes.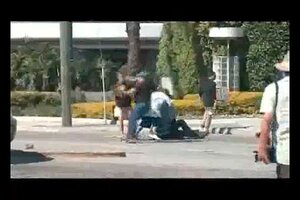 A violent brawl at one Tea Party rally Saturday laid bare the raw emotions now wrenching American society.
Tea Partiers took to the streets Saturday to protest President Obama's promised immigration reforms, which would offer some illegal immigrants a path to citizenship.
In Fort Lauderdale, Fla., however, counterprotesters from ANSWER – an antiwar, pro-immigration reform group – also took to the streets, with one blaring, "Amnesty, yes. Racists, no," from a bullhorn. When two Tea Party activists entered their protest zone, a fight erupted as Tea Party and ANSWER protesters kicked and punched one another and spilled into the middle of a busy intersection. [Note: The link is a YouTube video of the altercation provided by a Tea Party supporter. The fight includes profanity.]
One fistfight does not signal a dawn of 1960s-style social upheaval. But the weekend's events, seen as a symptom of the polarizing rhetoric that fueled them, point to a nation in which the political extremes are active and agitated.
Tensions surrounded the Fort Lauderdale protest even before it began. A Florida chapter of ANSWER sent out an e-mail in the days leading up to the event, saying the Tea Partiers were racists:
"Racism is like anything else in this world: in order to make it fall, you must smash it!" the e-mail notice read. "That is why we are calling on all people to come out tomorrow, to organize a militant confrontation with the so-called 'tea baggers.' Beating back these forces will require us to organize together, take the streets, fight the racists wherever they show their faces, and drive them out of every community."
---
Follow Stories Like This
Get the Monitor stories you care about delivered to your inbox.