Illegal immigrants becoming a flashpoint in healthcare reform
The House bill allows illegal immigrants to buy their own health insurance through a new 'exchange' as long as no government subsidy is involved. The Senate bill does not.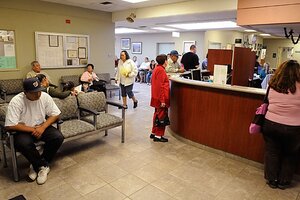 Phil McCarten/Reuters/File
As with abortion, illegal immigration has emerged as a social-issue flashpoint in healthcare reform.
The House bill, which passed Nov. 7, allows undocumented immigrants to purchase health insurance from a newly organized marketplace, or "exchange," if they use their own money and receive no federal subsidy. The Senate bill, which begins its legislative journey on Saturday, bars illegal immigrants from using even their own money to buy insurance in the exchange.
Supporters of the House approach believe that allowing undocumented immigrants access to private health insurance, if it is not provided through their employer, would cut down on visits to the emergency room and thus would reduce everyone's healthcare costs. Typically, healthcare providers pass along at least some of the costs of uncompensated care to paying customers.
"If they use their own money to purchase insurance without any taxpayer subsidy, it would make a lot of sense to offer that possibility," Sen. Robert Menendez (D) of New Jersey said Thursday on ABC's "Top Line" webcast.
Still, Senator Menendez does not intend to introduce an amendment when the Senate bill reaches the floor, says his press secretary, Afshin Mohamadi. "He's going to look at the totality of the bill and judge it based on that, not one particular issue or another," says Mr. Mohamadi.
Senator Menendez is the only Hispanic member of the Senate. If the Senate bill stands as is, then the immigration issue will have to be hashed out in conference. House speaker Nancy Pelosi has said she will stand by her chamber's version.
But even given that the House version disallows a federal subsidy for an undocumented worker's health insurance, supporters of the House position may still have to fight a perception that such workers are gaining inappropriately under health reform. Critics of the House provision fear the government will look the other way as illegal immigrants get subsidized healthcare. They doubt that such workers' immigration status will be checked.
---