S.C. Gov. Mark Sanford: momentum builds toward impeachment
A panel of the South Carolina House held a hearing into the potential impeachment of Gov. Mark Sanford Tuesday. The state constitution gives lawmakers wide latitude to impeach Sanford, who left the state secretly in June to visit a lover in Argentina.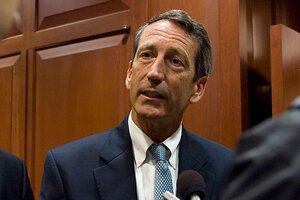 Mary Ann Chastain/AP/File
The heat is turning up on Mark Sanford, the embattled two-term governor of South Carolina.
On Tuesday, a state legislative panel held its first hearing into possibly impeaching the Republican over his five-day disappearance last June to visit his lover in Argentina. The panel also expanded its review to include 37 ethics charges that were released Monday against Governor Sanford, which centered on travel and campaign spending.
"Momentum is building to get on with the process, no doubt about it," says David Woodard, a political scientist at Clemson University in Greenville and a Republican strategist.
At issue is whether Sanford's behavior consisted of "serious crimes or serious misconduct in office," as the standard for impeachment is described by the state constitution. With such a vague definition, state legislators will have wide latitude in their interpretation.
If impeached and removed from office, Sanford would be the first South Carolina governor to face that fate, and only the ninth in US history, following Illinois Gov. Rod Blagojevich's removal earlier this year.
At Tuesday's hearing, the seven-member panel of the House Judiciary Committee considered an impeachment resolution co-sponsored by four Republicans and one Democrat. The resolution stated that Sanford was derelict in his duty as governor by leaving the state without a clear chain of command in his absence.
---