Schwarzenegger taps Maldonado as lieutenant governor on Leno show
California Gov. Arnold Schwarzenegger picked state Sen. Abel Maldonado as his candidate for lieutenant governor Monday night. Maldonado would be the first Hispanic Republican to hold statewide office in 130 years.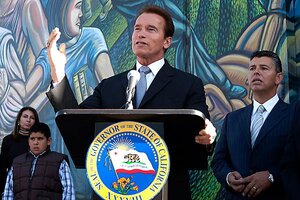 Peter Grigsby/Office of the Governor/Reuters
Gov. Arnold Schwarzenegger introduced California state Sen. Abel Maldonado to the country Monday night -- well, at least to the few million TV viewers still watching the "The Jay Leno Show."
The gossip website Gawker even said the governor's appearance on the ratings-suffering show returned Mr. Leno to "the national radar for an oh-so-brief moment by using it to announce his pick for Lt. Governor."
But had anyone even heard of Senator Maldonado? Maybe the Californians watching. But since this state's political drama is something of a national fascination, Americans are likely to hear a lot more about Maldonado as his nomination appears headed for a political fight in Sacramento.
Both houses of California's legislature have 90 days to approve Schwarzenegger's choice to fill the lieutenant governor seat, which was left vacant when John Garamendi, a Democrat, left to take a seat in Congress.
Some lawmakers are already betting against Maldonado, a Republican from Santa Maria, Calif., a farming community about 150 miles north of Los Angeles.
---