Ft. Hood rampage raises questions about gun control
The FBI had limited time to investigate alleged Ft. Hood shooter Maj. Hasan's purchase of guns used in the deadly attack. Critics say pro-gun lawmakers have blocked efforts to connect gun purchases with potential terrorists.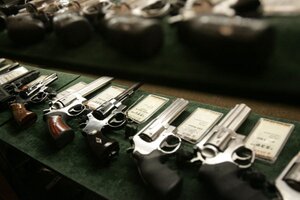 Jessica Rinaldi/Reuters/File
Anything involving guns in the United States is sure to stir up the debate over government gun control. And the recent rampage at Ft. Hood, Texas, where 13 people were killed and 38 wounded, is no exception.
Until 2003, the FBI had up to 180 days to investigate information found in gun purchase background checks. But since then, such information -- which might raise red flags for the FBI -- has been available to the agency for just 24 hours, after which it is destroyed.
Why? Critics say it's because pro-gun lawmakers, spring-loaded to oppose stronger gun control of any kind, have stymied efforts to give the FBI greater authority to look for gun purchasers who might potentially be terrorists or otherwise prone to attack innocent victims.
"This requirement … meant that Hasan's investigators were blocked from searching records to determine whether he or other terrorist suspects had purchased guns," say New York Mayor Michael Bloomberg and former New Jersey Governor Thomas Kean (who chaired the Sept. 11 commission).
In a recent Washington Post op-ed column, Bloomberg and Kean wrote:
"A full investigation will reveal whether other red flags should have resulted in preventive action, but here is one thing we already know: A federal law repeatedly supported by Congress interfered with the FBI's ability to find out about Hasan's purchase of a handgun. Knowledge of that purchase might -- and should -- have triggered great scrutiny. And it could have saved lives."
---
Follow Stories Like This
Get the Monitor stories you care about delivered to your inbox.