Will healthcare reform drive costs down? A little, report says.
A report released Monday by the Congressional Budget Office suggests that the Senate healthcare reform bill would have a modest effect on average Americans' pocketbooks. Critics say that's not enough to justify massive reforms.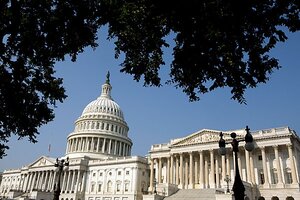 Melanie Stetson Freeman/Staff
A report released today by the Congressional Budget Office has set out what could be a decisive fault line in the Senate debate over healthcare reform.
Proponents say the report shows healthcare reform will do no harm to Americans' pocketbooks. Critics say that report shows the US is about to undertake a massive and uncertain reorganization of the healthcare industry for "no significant savings."
In truth, there's no fixed answer to what is emerging as the biggest question on healthcare reform: How will proposed changes affect the premiums people pay for health insurance.
It depends on how people purchase insurance, according to the report released today.
For Americans with employer-provided insurance, changes in the cost of coverage will be modest. For those who buy insurance on their own – and qualify for government subsidies – costs could go down up to 59 percent.
'A modestly positive impact'
Sen. Evan Bayh (D) of Indiana, who asked the CBO in October to report on the issue for the Senate debate, said that he could not vote for a bill that raised insurance costs for average Americans. Today's report "alleviates a major concern," he said.
"This study indicates that for most Americans, the bill will have a modestly positive impact on their premium costs. For the remainder, more will see their costs go down than up," he said in a statement.
But critics found grist in the CBO report for their own talking points. After trillions in government spending, new taxes, and cuts to Medicare, most people "will end up paying more or seeing no significant savings," said Senate GOP leader Mitch McConnell, in a floor speech today. "This is not what the American people are asking for. And it's certainly not reform."
---