Atlanta's mayoral runoff may hinge on city's gay voters
A black candidate and a white candidate are facing off in Atlanta's mayoral runoff election Tuesday. But another bloc, gay voters, may well decide the outcome.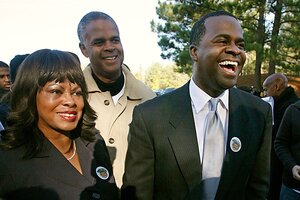 Tami Chappell/Reuters
Without a runoff election, Atlanta would already have its first white mayor in a generation.
Instead, a black candidate who once polled at 8 percent has drawn even in Tuesday's runoff race. Even more surprising: The outcome may well be determined by an emerging and gung-ho minority – gays and lesbians.
The runoff, a peculiarly Southern invention from the early 1900s designed to keep groups like the Ku Klux Klan from dominating one-party Democratic politics, has come to be seen as disadvantageous to blacks, fragmenting votes in cities where blacks don't have a majority. (Runoffs are held whenever a candidate can't rope a 50 percent majority in the general election.)
But if contests in Houston (which could elect its first openly gay mayor on Dec. 12) and Atlanta are any indication, the runoff has served to keep black candidates alive. It's now also injecting sexual dynamics into urban politics in these two leading Southern cities.
As part of that process, the century-old runoff system itself has been transformed, updated, and proven to be keenly relevant in locating the most representative man or woman to steer a city's future. The rap against runoffs are that they can favor flukes and that turnout for them tends to be much lower than in the general election.
"Whoever they were originally intended to advantage, it's fairly certain no one could have anticipated [runoff] elections like those being held this year, even a decade or so ago," writes Tom Baxter of the Southern Political Report.
---