Obama's Afghanistan war plan: How will he pay for it?
It will cost an additional $30 billion a year. Some antiwar Democrats in Congress talk of a 'war tax,' but the most likely option to fund Obama's Afghanistan war plan is to keep borrowing.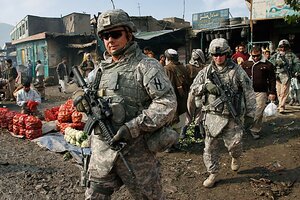 Musadeq Sadeq/AP
President Obama's new strategy for Afghanistan may succeed. It may fail. But one thing is sure: It will cost $30 billion a year that at the moment the Pentagon doesn't have.
As of now, Congress appears poised to just borrow the cash to pay for the deployment of 30,000 more US troops to Afghanistan, adding to the federal deficit. That's in contrast to healthcare reform, which lawmakers are struggling to pay for with tax increases and budget cuts.
This shows that years of special supplemental appropriations to pay for the Iraq and Afghan wars have made it too easy for lawmakers to avoid making tough fiscal choices on defense, say some deficit hawks.
"Deeming a particular initiative as vital to the national interest should not exempt it from being paid for," said Maya MacGuineas, president of the Committee for a Responsible Federal Budget.
No payment plan spelled out
In his speech Tuesday night, Mr. Obama himself noted that the cost of his Afghan troop increase would run about $30 billion a year.
"I'll work closely with Congress to address these costs as we work to bring down our deficit," said Obama.
---